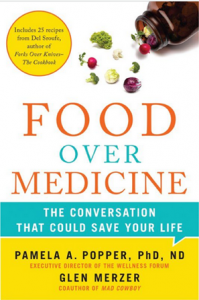 Food Over Medicine – The Conversation that Could Save Your Life
by Pamela A. Popper, PhD, ND & Glen Merzer
$14.95 + $5.00 S&H within continental U.S. (plus tax for Ohio residents)
Includes recipes from Chef Del Sroufe, author of the bestselling Forks Over Knives—The Cookbook and Better Than Vegan
Nearly half of Americans take at least one prescription medicine, with almost a quarter taking three or more, as diseases such as diabetes, obesity, and dementia grow more prevalent than ever. The problem with medicating common ailments, such as high blood pressure or elevated cholesterol, is that drugs treat symptoms—and may even improve test results—without addressing the cause: diet.
Overmedicated, overfed, and malnourished, most Americans fail to realize the answer to lower disease rates doesn't lie in more pills but in the foods we eat.With so much misleading nutritional information regarded as common knowledge, from "everything in moderation" to "avoid carbs," the average American is ill-equipped to recognize the deadly force of abundant, cheap, unhealthy food options that not only offer no nutritional benefits but actually bring on disease.
In Food Over Medicine, Pamela A. Popper, PhD, ND, and Glen Merzer invite the reader into a conversation about the dire state of American health—the result of poor nutrition choices stemming from food politics and medical misinformation. But, more important, they share the key to getting and staying healthy for life.
Backed by numerous scientific studies, Food Over Medicine details how dietary choices either build health or destroy it. Food Over Medicine reveals the power and practice of optimal nutrition in an accessible way.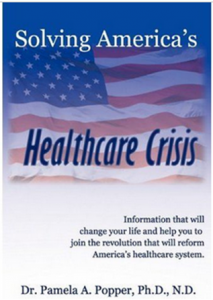 Solving America's Healthcare Crisis
by Dr. Pamela A. Popper, PhD, ND
$19.95 + $6.00 S&H within continental U.S. (plus tax for Ohio residents)
Dr. Pam Popper's newest book goes beyond diet advice and covers myths about protein, supplementation, the role of genes, and other related issues. Information about how nutrition affects many different conditions and stories of people who have regained their health with diet are included, along with details about issues like public policy, school food, and how to reduce the financial burden of health care for employers. This book is a blueprint for how to save the country billions of dollars in unnecessary costs per year and help Americans to improve their quality of life through optimal health.
______________________________________________________
Dr. Pam's Reading List – my rule is one serious book, and then some "brain candy"
Writer, Sailor, Soldier, Spy
Ernest Hemingway's Secret Adventures, 1935-1961
by Nicholas Reynolds
I read this for our upcoming July book club. Apparently Nobel Prize winning author Ernest Hemingway was a spy. This is a true story but reads like a spy thriller. LOVED it!
The Craving Mind: From Cigarettes to Smart Phones to Love – Why We Get Hooked and How We Can Break Bad Habits
by Judson Brewer, M.D.
I bought this book on the recommendation of my good friend Mary Marshall. I'm teaching a bootcamp on forming and maintaining good habits and this book has provided me with a lot of great info. I love the author's definition of addiction – people continuing to engage in behaviors that are clearly not good for them. Technically a book I read for work, but I enjoyed it as if it were a leisure read.
Shattered: Inside Hillary Clinton's Doomed Campaign
by Jonathon Allen and Amie Parnes
This book is interesting regardless of your political preferences. Great inside view, and explanation of how Hillary lost.
Game of Thorns
by Doug Wead
How the backgrounds of both Donald Trump and Hillary and Bill Clinton influenced the election outcome.
The Fix
by David Baldacci
LOVE this writer's books – they never disappoint!
Sins
by Judith Gold
An older book that was made into a TV series starring Joan Collins.  Complete brain candy!!
Fatal
by John Lescroart
I have read all of this author's books and anxiously await each new arrival. My favorites are the Dismas Hardy series.
In The Darkroom
by Susan Faludi
Another book I read for book club.  True story about a man who lived in Hungary during WWII who made it to the U.S., married, had a family and then eventually realized he was transgender and became a woman. Much more complicated than this brief description makes it sound. Real life really is more interesting sometimes than fiction.
The Wonder
by Emma Donoghue
After reading Room by this author for book club, I knew this would be a great book.  An English nurse travels to a small town in Ireland to check out the story of a young girl who has reportedly stopped eating and is surviving on manna from heaven. Could not put this one down.
Home
by Harlan Coben
I read ALL of this author's books! Two boys disappeared under strange circumstances and 10 years later it appears that one has been found. Where has he been? What actually happened to these boys? A real thriller!